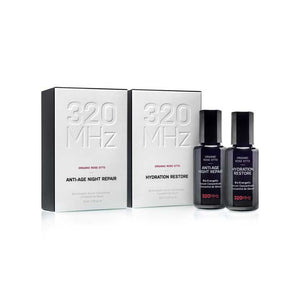 320 MHz
Set Offer: Anti-Age Night Repair & Hydration Restore Holistic Serums - SAVE £40
Sale price Price £109.00 Regular price £140.00
Tax included. Free UK shipping. Free International* Shipping
Terms apply
Day and Night gift set of 100% pure botanic serum oil

Anti-Age Night Repair and Hydration Restore Face Serum Oils are imbued with our highest concentration of Organic Rose Otto. Together they form a complimentary day and night regime. The transformative and regenerative power of Rock Samphire has been included in this range for its 'retinoid like' action.
Helping to smooth out lines and wrinkles, without causing the notorious skin irritation or the increased photosensitivity associated with Vitamin A retinoids. This extract, along with olive squalane's exceptional lipid repair, results in faster cell turnover, and all day moisture retention using only the power of nature at its most pure.
SAVE £31
Active Ingredients included in gift set serums - Click on links of individual products to refer for full listing of ingredients.
Anti-Age Night Repair
Hydration Restore Holistic Face Serum


Rose Otto Essential Oil Organic: A gentle steam distillation of the Rosa Damascena flower heads from the Rosova Dolina harvest. This rare essential oil enhances wellbeing, affecting both olfactic senses and physiology and is traditionally used to calm and uplift. 

Moringa Oil: Cold pressed seeds from the Moringa Oleifera tree, also known as the 'Miracle Tree' due to it's high antioxidant, omega rich and mineral benefits.
Arctic Cranberry Seed Oil: Omega 3,6 & 9: reduces inflammation, anti-oxidant protection against the damaging effects of pollution and free radicals.

Arctic Lingonberry Seed Oil: Vitamin E, Omega 3 & 6, balancing pigmentation, and boosting hydration.

Chia Seed Oil is rich in essential Omega 3 Fatty Acids. When the skin membrane has sufficient Omega 3 it helps to reduce water loss keeping the cell plump and nourished and encourages increased absorption of nutrients and elimination of waste products.
Baobab Oil is made from cold pressed seeds from the ancient Baobab tree. It is renowned for helping to alleviate itchiness and dryness of the skin due to its wonderful emollient and intensive moisturising effect. It also has powerful anti-oxidant properties helping to protect against free radical damage.

Rock Samphire (Crithmum Maritimum): An exceptional coastal plant that provides increased cell turnover, smoothing of lines and wrinkles whilst gently enhancing the exfoliation of dead cells.

Samphire extract (Salicornia Herbacea): A remarkable coastal plant that enhances moisture retention  by naturally strengthening intercellular cohesion and limiting water loss. Dry skin disappears in favour of  a more supple and smooth lustre.
Olive Squalane: An Intense lipid that repairs the protective membrane around each living cell. It acts as a permeability barrier, protecting against invasion of micro organisms as well as preventing moisture loss whilst maintaining the skins flexibility and suppleness.
Oat Seed Oil: Aromatherapy grade, cold pressed seeds rich in vitamins A, B, E, iron, zinc, manganese to nourish and calm inflamed skin.
 
No synthetic fragrance, preservatives or animal testing. Vegan
Suitable for all skin types including sensitive skin
Our high MHz pure botanics are uncompromisingly sourced and carefully preserved in Photobiotic Glass to protect the integrity and regenerative life force of our oils.