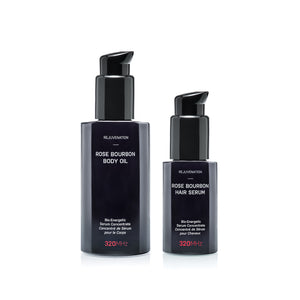 320 MHz
Rose Bourbon Body Oil & Hair Serum Treatment Offer- SAVE £50
Sale price Price £76.00 Regular price £126.00
Tax included. Free UK shipping. Free International* Shipping
Terms apply
Rose Bourbon Body Oil

Advanced bio-active formulation to alleviate stubborn dry skin, stimulate micro circulation and provide full spectrum nutrition with natural Pro Vitamin A Retinoid, balanced Omega 3, 6, 9 seed oils and high performance plant cell bio-active extracts. 
An intensive hydration treatment for the body and hands. Ultra nourishing Bakuchiol, Rosehip, Moringa, Baobab and Oat seed oils combine to deliver a rich and restorative body oil for dry, depleted and undernourished skin. Flowering Limonia extract supports natural hyaluronic and collagen synthesis whilst Pink Peppercorn extract significantly boosts micro-circulation and supports absorption of the many formulation benefits. *Suitable for Spider veins and soothing eczema treatment. 
Content:  100ml / 3.4 fl oz 

Use instructions: After showering apply daily to dry and irritated skin. To increase penetration of the oil into the epidermis massage thoroughly.
Rose Bourbon Hair Serum

Advanced bio-active formulation to revitalise and provide lustre to dry, damaged and brittle hair. Brimming with natural Pro Vitamin A Retinoid, balanced Omega 3,6,9 super seed oils and bio-active plant cell extracts that form a unique botanic symphony for scalp and hair restoration.
Vivo and Vitro clinical trial evaluations of targeted bio-active ingredients.
Sea Beet extract. Hair shine, silkiness, volume gain and scalp soothing.
Golden Samphire extract. Capillary shaft protection, prevents bulb oxidisation and degradation.
Pink Peppercorn extract. Enhances microcirculation of the scalp thus invigorating the absorption of bio-actives and Omega rich seed oils delivering full spectrum nutrition.
Serum treatment application for Scalp and Hair
Massage hair serum onto dry or damp hair thoroughly to maximise activation, micro-circulation and penetration of the pantheon of bio-actives. Leave on for two hours or overnight to achieve best results. Shampoo and rinse. 
Suitable for all hair types
Content:  50ml /1.75fl oz
100% high performance botanics
AROMA

Organic essential oils: Rose Otto, Frankincense Serrata and Rose Geranium Bourbon
Rose Bourbon Body Oil
Content:  100ml / 3.4 fl oz
Rose Bourbon Hair Serum
Content:  50ml /1.75fl oz