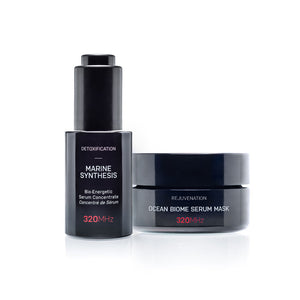 320 MHz
Ocean Biome Collection - SAVE £50
Sale price Price $123.00 Regular price $188.00
Tax included. Free UK shipping. Free International* Shipping
Terms apply
The first of our supercharged Ocean Biome
™ 
offers.
Marine Synthesis Face Serum and Ocean Biome Serum Mask set are imbued with advanced bio-tech plant and algae cell extracts to achieve a profound and immediate synthesis with human skin cells.

Marine Synthesis - Bio Energetic Face Serum Concentrate Profoundly active ingredients to promote age reversal, hydration recovery and anti-pollution efficacy - Winged Arctic Kelp and Makabu Seaweed wonders are revealed in this luxurious synthesis of marine bio-actives within a balanced 3, 6,7 and 9 Omega rich pure seed oil formulation.

Ocean Biome Serum Mask. Seaweed and Algae actives combine with super food plant cell extracts of Bakuchiol, Plum, Sea Buckthorn and Moringa to provide balanced Omegas 3,6,7,9 nutrition with naturally occurring Pro-Vitamin A Retinoid.

SAVE £50 on Ocean Biome Collection.

Click on links below to review individual serum and mask full list of ingredients.

Marine Synthesis - Serum Concentrate
Ocean Biome Serum Mask
No synthetic fragrance, preservatives or animal testing. Vegan.
Suitable for all skin types and microbiome synthesis.
*All our bio-actives are clinically Vivo and Vitro performance tested.
Our high MHz pure botanics are uncompromisingly sourced and carefully preserved in Photobiotic Glass to protect the integrity and regenerative life force of our oils.