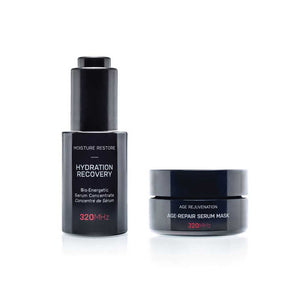 320 MHz
Set: Age Repair Serum Mask & Hydration Recovery Serum - SAVE £40
Sale price Price £103.00 Regular price £143.00
Tax included. Free UK shipping. Free International* Shipping
Terms apply
AGE REJUVENATION and HYDRATION RESTORE
Hydration Recovery Serum
A moisture replenishing face serum imbued with Organic Rose Otto and Neroli Oil and Salicornia Herbacea extract to radically transform the skin by maintaining all day hydration.
Our green award winning Wakame Macroalgae cell extract promotes increased anti-oxidant activity by combatting an excess of free radicals. Moringa, Olive Squalane and Baobab Oil provide a further dose of lipids and moisture promoting botanicals to help repair the protective membrane and lock moisture deep into the skin.
Age Repair Serum Mask
An intense age-repair, moisturising and cleansing facial Serum mask to activate cellular regeneration.
Chlorella and Wakame macro algae bio-actives support collagen production, microcirculation, matrix repair and softening of fine lines whilst limiting the effects of inflamatory aggressors.
Super food seed oils Cacay, Rosehip, Oat, Cranberry and Moringa provide balanced Omegas 3,6,9 nutrition and Pro-Vitamin A. 

SAVE £40
Click on links below to review individual serum and mask for full list of ingredients.

Hydration Recovery Serum Oil
Age-Repair Serum Mask

No synthetic fragrance, preservatives or animal testing. Vegan and sustainable.
Suitable for all skin types including sensitive skin