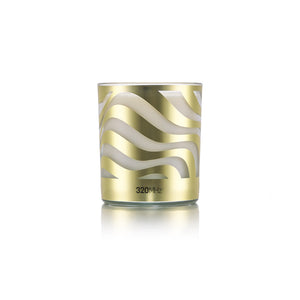 320 MHz
Gold 'The Lighthouse' Ambient Mood Candle
Sale price Price $44.00 Regular price
Tax included. Free UK shipping. Free International* Shipping
Terms apply
Breath with confidence, dancing ambiance candle, hand decorated in Staffordshire with artisan hand poured 100% soya wax candle. Ideal for dinner party settings, playful room ambiance and a non toxic, mood creating alternative to fragrance candles. Ideal for your personal daily Yoga practice and table settings.

The 'Lighthouse' was born to dance the light fantastic whilst casting a reassuring and welcoming light pattern to keep us all off the rocks!
Hand poured, 100% Sustainable Soya wax. 
Hand decorated. Lead Free, Energy saving decorative design that achieves 75% energy reduction during the kiln process.  
Approx 40 hours of dancing flame time. 
Hypoallergenic. Aroma free. 
Zero petroleum ingredients. 
Zero synthetic fragrance. 
Zero Waste with refillable, bespoke hand poured replacements available soon. 
Our Lighthouse candle refills are available in early 2024.